"roaster boaster"
– = rollercoaster.  he's a fan.  but not tall enough to ride yet :)
Watch
Spring 2012
"i am superman!"
– egon (duh)
"boom boom boom. i'm dinosaur. i wanna eat."
– egon (in a weird dinosaur voice) (all week while we've been in england)
monthly photo catch-up!
2 years old! 2 years 1 month 2 years 2 months … must post more often :)
"no thank you. music is dirty. yuck!"
– the response to "egon, do you want to listen to some music?"
"i love you!"
– AT LAST!!!! :)
no more nursing
as of about a week ago, it seems we have officially stopped nursing - egon is a fully weaned child!  haha!  it had been only morning and evening for a long time, and then just once a day at bedtime for a good few months… and it has been pretty brief lately and felt like totally a comfort thing rather than egon actually getting a significant amount of milk that way.  he's been drinking...
"mmmmmmmm… double-u"
– egon, eating alphabet soup!
approaching 20 months... egon's favorite things
his choo-choo train jumping in the pool his best friend penny pizza and posing! he's starting to string words together to form small sentences!  "mama, daddy, tracks!" - translated - "come on mummy and daddy, play with my train with me!"  he knows what he wants, and he's beginning to be able to ask for it with words, or refuse to do as we say with...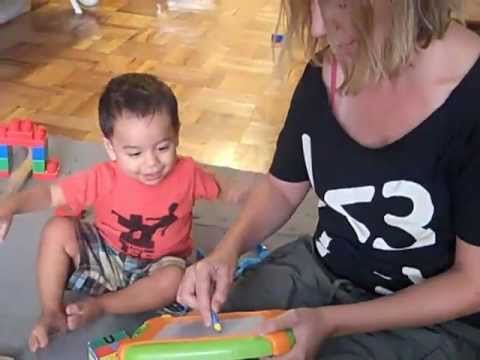 Watch
egon's train!  the song!  the music video!
Watch
having fun with grandma!
"one, two, three, four, five, six, seven, eight, nine, ten!"
– by george, he's got it!
"four, five, six, seven, eight, nine, ten!"
– according to egon, numbers start at 4…
long-distance-walking...
today egon walked all the way home from daycare, holding my hand.  only minor upsets at being stopped before crossing the streets.  big progress! :)
Watch
abcs with egon!
trying to catch up....
you know when you forget to do something for so long, it becomes harder and harder to do it?  yeah.  ok i need to recap the last few months or so! so our vacation in florida back in april was lovely - egon really had a good time on the beach, the weather was perfect and we even got to relax a bit as he was so into just sitting and digging in the sand! on the beach, singing the wheels on the...
"X, S, 1, 2, 3, 4 (sort of)"
– egon's picking up some letters and counting on his fingers!  X sounds like ASS! :D
Watch
video from our vacation of egon enjoying the sea!